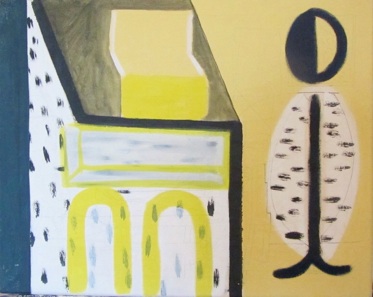 EVICTION
David Murphy
David Murphy lives & works in St Leonards-on-Sea. In the 1970s he lived in Cornwall amongst fellow painters such as Roger Hilton, Terry Frost, Bob Bourne, Lesley Illsley & others.
During his career Murphy has exhibited at Newlyn Art Gallery, Battersea Picture Gallery, Gallery 7 in Gothenburg, Sweden & Hastings Arts Forum. He has works in private collections in Germany, Sweden, Denmark, Italy, West Indies, USA & Canada.
Murphy's recent paintings explore simple forms & colour – the work has always been political & his solo exhibition at Hastings Arts Forum in 2012 was titled 'The Emptiness of Capitalism'.
---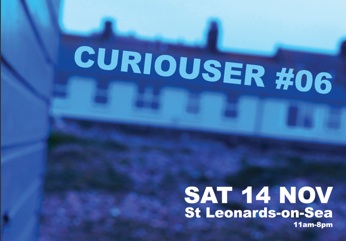 ---
Coffee & Peaches
New paintings by Dan Howard-Birt curated by Jacqui Hallum
These are paintings of things on top of other things. Proxies, surrogates, containers, histories. One on top of another in small piles.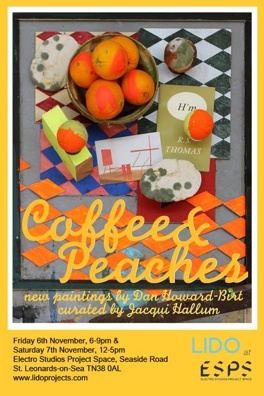 ---
AS IF THEY EXISTED
During winter 2014/15, to correspond with Turner Contemporary's spring 2015 exhibition Self, artist and writer Felicity Allen undertook a residency at Turner Contemporary which explored how women's work in the arts continues to shift ideas about artistic practice and how to record it.
As If They Existed is a new film by Felicity Allen, made with artist Tom Dale. Throughout her residency at Turner Contemporary, Allen painted portraits of influential women working within the arts. The film records the development of the work and the conversations shared between Allen and her sitters.
As If They Existed was commissioned by Turner Contemporary
http://www.felicityallen.co.uk
---

THERE IS NO PLACE LIKE HOME
A weekend event featuring interventions by sculpture students at La Cambre École Nationale Supérieure des Arts visuels, Bruxelles in collaboboration with Johan Muyle, Head of Sculpture.
Estelle Cernichowski, Philippe de Chirée, Julien Dumond, David Ek, Romane Gérard, Antoine Jacqz, Camille Lavier, Gabrielle Lerch, Laurent Quentin, Capucine Tirfort, William Waseige
Launch event on Friday 9 October 2015 from 18.30 – 21.00
Open Saturday 10 October from 14.00 – 16.00

---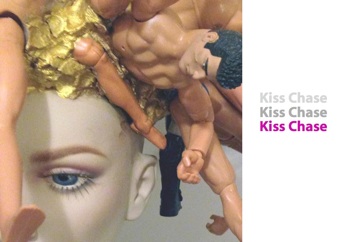 Kiss Chase
Hermione Allsopp, Paco de Quesada, Alexandra Drawbridge, Gerard Hemsworh, Russell Miller, Anne Parfitt, Geraldine Swayne
Open Saturday 19 – Sunday 20 September from 13.00-17.00 & Thursday 24 – Sunday 27 September from 13.00-17.00
Preview: Friday 18 September 18.00-21.00
Kiss Chase is an exhibition which showcases seven contemporary artists who work in a variety of media including painting, film, printing and sculpture. The works reflect on childhood through approached ranging from humour and irony to the uncanny and the subversive, resulting in a compelling show that is at times intriguing and unsettling
---
"Transit-Movement Through Space"
12 & 13 September 2015
Open Saturday 11-5 & Sunday 12-6
Elise&Mary – Elise Liversedge & Mary Hooper set up camp at ESPS to show a series of moving images made over a period of 2 years, screened alongside a new audio soundtrack, made especially for ESPS
---
Altered States
Sat 29 August from 6pm – 10pm
Sun 30 August from 2pm – 6pm
Altered States is an immersive multi-screen show of the latest experimental film and video work
curated by the Hastings-based filmmakers Toby Tatum and Mark French. Altered States features
moving image by over seventy of the most fascinating international moving image practitioners
working today, much of it unseen in the UK.
---
Nathan Burr and Louis Buckley
A Hundred-Mile Conversation
Thursday 2 July 2015 from 19.00-21.00
A Hundred-Mile Conversation (60 mins) will be followed by a Q&A session led by Nathan Burr
With A Hundred-Mile Conversation Burr and Buckley set out to look for associations between landscape and suicide – and to explore whether walking could facilitate cnversations about this sensitive issue. As the artists travelled along the South Downs Way.
---
'I'm Not Even Trying no. 2'
Jeb Haward lives and works in Hastings. His work explores the problem of image making: what arises and what is it's purpose in the field of drawing or painting? What does it suggest metaphorically and are the pictorial relationships edgy enough to go beyond his expectations and his last attempt?
---
Blue Tide
Magnus Ayers, India Boxall, Rupert Dorey, Bronte Dow, Collette Freeman, Maudie Gibbons, Rosie Haward, Eugene Watson, Jaf Yusuf
Saturday 2 May & Sunday 3 May 2015
Open 11.00-17.00
Private view: Saturday 18.00-21.00
Blue Tide is concerned with the status, tangibility and psychology of the screen, engaging with history, narrative and the anxiety of the everyday. Our interventions, representations and appropriation along with our travels to and from Hastings pulsating and forming liminal, digital and physical space. Probing to create dialectical relationships, encourage political enquiry and dissent as a means of activity and understanding.
---
Foule Parlement
A group exhibition curated by Ros Faram with work by painters including Iain Nicholls, Jacqueline Utley,
Brian Cheeswright, Lee Maezler, Aly Helyer, Mikey Georgeson & Ros Faram.
Private view: Friday 10 April 2015, 18.00-21.00
Open Saturday 11th & Sunday 12th April, 13.00-17.00
http://www.re-title.com/artists/jacqueline-utley.asp
http://www.briancheeswright.com
http://en.wikipedia.org/Mikey_Georgeson